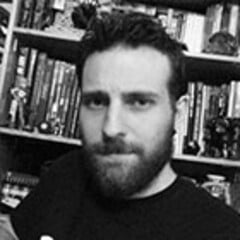 Manu Herrador
Senior 3D Character Artist at Room 8 Studio
Madrid, Spain
Summary
Currently working as a Principal Character Artist at Saber Interactive.
I have been working in the video game industry for 9 years and I have been at several studios, such as MercurySteam, Pendulo Studios, Out of the Blue Games, Share Creators or Virtual Toys.
I have had the great opportunity to work on such games as Metroid Dread, Metroid: Samus Returns, Spacelords, CrystalBorne - Heroes of Fate, Call of the Sea, Agents: Biohunters, and Phineas and Ferb: Day of Doofenshmirtz among others.
Skills
High-poly Modeling
Low-poly Modeling
Character Modeling
Environment Modeling
Digital Sculpting
Texturing
Retopology
Rendering
Post-production
Creature Modeling
Software proficiency
Productions
Video Game

Metroid Dread

Year

2021

Role

Senior 3D Character Artist

Company

MercurySteam Entertainment

Video Game

Spacelords (PS4/XBox One/PC)

Year

2017

Role

Senior 3D Character Artist

Company

MercurySteam Entertainment

Video Game

Alfred Hitchcock - Vertigo

Year

2021

Role

Senior 3D Character Artist

Company

Pendulo Studios

Video Game

Call of the Sea

Year

2020

Role

Senior 3D Artist

Company

Out of the Blue Games

Mobile Game

CrystalBorne - Heroes of Fate

Year

2020

Role

3D Character Artist Freelance

Company

Share Creators / Machine Zone

Video Game

Motorama (PC)

Year

2014

Role

3D Artist

Company

Freedom Factory Studios
Experience
Senior 3D Character Artist at Room 8 Studio

Principal 3D Character Artist at Saber Interactive

Character Modeling for Evil Dead: The Game

Senior 3D Character Artist at Pendulo Studios

April 2020 - October 2020

Character Modeling for Alfred Hitchcock - Vertigo

Senior 3D Artist at Out of the Blue Games

October 2019 - October 2020

Character and Environment Modeling -Texturing for Call of the Sea

3D Character Artist - Freelance at Share Creators

November 2019 - February 2020

Character Modeling for CrystalBorne - Heroes of Fate

Senior 3D Character Artist - Freelance at Playstark Games

January 2019 - March 2019

Character Modeling for Agents: Biohunters (PC)

Senior 3D Character Artist at MercurySteam Entertainment

Madrid, Spain

Character Modeling -Texturing for Metroid Dread

Character and Environment Modeling -Texturing for Metroid Samus Returns

Character Modeling for Spacelords (PS4/Xbox One/PC)

3D Artist at Virtual Toys

Madrid, Spain

September 2014 - June 2015

Character Modeling for World of Warriors (PS4)

Character and Environment Modeling/Texturing for Phineas and Ferb: Day of Doofenshmirtz (PSVita)

Environment Modeling and Texturing for The Muppets: Movie Adventures (PSVita)

Environment Modeling and Texturing for Looney Tunes: Galactic Sports (PS Vita)

3D Artist at Freedom Factory Studios

Madrid, Spain

January 2013 - January 2014

Environment Modeling and Texturing for Kick-Ass 2 (Xbox 360 / PS3 / PC)

Vehicle Modeling and Texturing for Street Rod (Xbox 360 / PS3 / PC)

3D Artist at Freelance

Madrid

January 2011 - January 2013